Aimetis SYM-SV-SL-E Enterprise Edition VMS Licence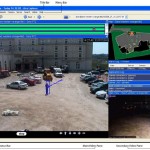 Aimetis Symphony makes intelligent video management simple by providing a single software platform for:
Future-Proof Surveillance - With three software license versions to choose from, Aimetis Symphony™ has a solution for every stage on the migration path from analog CCTV to intelligent IP video. And, with the industry's simplest licensing model, transitioning is easier than ever. Learn more
Open IP Video Management - Aimetis Symphony™ installs on standard IT hardware, supports hundreds of camera models, provides a feature-rich, easy-to-use interface, and has a full Application Programming Interface (API) that makes integration with third-party systems, such as access control, easy. Learn more
Proven Video Analytics - Aimetis VE Series video analytic algorithms are seamlessly incorporated into Aimetis Symphony™, analyzing video data in real-time and providing organizations with intelligent information at their fingertips. Read more about the benefits of analytics.
Security & Beyond - With advanced video search tools, and a comprehensive selection of on-demand reports, organizations use Aimetis Symphony™ for business intelligence in addition to security surveillance, helping them to better plan business requirements, improve operations and increase ROI.
•Open Platform ◦Install on standard IT hardware ◦Supports hundreds of cameras and encoder manufacturer models ◦Supports MPEG4, MJPEG, H.264 ◦Rich API for third-party system integration ◦OPC Interface •Unhindered Scalability ◦High camera density per server ◦Server Farm Support ◦Server Virtualization ◦Microsoft Active Directory ◦Automatic Software Updates •Intelligent, User-Friendly Interface ◦Dynamic deep linked site map ◦Alarm notification and response log ◦Event driven timeline ◦Customizable display ◦Multiple PTZ control options ◦Multi-language support ◦PC Client, PDA Client, Web Client •Smart Search ◦Eliminate the need to review hours of recorded video ◦Pinpoint specific events in seconds by setting search parameters such as: ■Search by time, location, activity ◦Review and export qualifying snippets of video in seconds
Manufacturer

Part Number:
SYM-SV-SL-E