QNAP VS-2004L VioStor NVR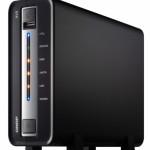 The VS-2004L VioStor NVR is the 2-bay network surveillance system for home and SOHO security applications. The Linux-based system supports 4-channel H.264, MPEG-4, and M-JPEG recording from ONVIF-compliant IP cameras and surveillance devices from AXIS, ACTi, A-MTK, Arecont Vision, AVTECH, Brickcom, Canon, Cisco, CNB, DIGITUS, D-Link, EDIMAX, ELMO, EtroVision, GANZ, Honeywell, iPUX, IPX, IQeye, LevelOne, Linksys, Messoa, MOBOTIX, NAKAYO, Panasonic BB/BL/i-Pro, Pelco, SANYO, SHANY, SONY, TOA, TOSHIBA, TRENDnet, Videosec, VIOSECURE, VIVOTEK, and Y-CAM.
The unique multi-server monitoring feature of the VioStor NVR allows monitoring of up to 128 IP cameras from multiple QNAP NVR servers at the same time. No extra software is required. Instant alarm icon will be shown and the alarm channel will be highlighted to inform the administrator immediately if an event occurs.
The VioStor NVR supports diversified recording features, such as scheduled recording, alarm recording by multiple alarm events, alarm recording schedule, and pre-alarm and post-alarm recordings. Advanced event management is provided for the administrator to define the handling options when events or alarms are triggered. The VioStor NVR also offers enhanced video search by intelligent video analytics (IVA), such as motion detection, foreign object, missing object, out of focus, and camera occlusion. Moreover, you can use the video surveillance application "VMobile" to monitor the IP cameras with your iPad, iPhone, iPod touch, and Windows PDA phones anytime, anywhere.
Powerful Features of VioStor NVR (Network Video Recorder): •Real-time monitoring and recording (video/audio) from multiple IP cameras (up to 4 channels) •High quality H.264, MPEG-4, and M-JPEG recording (depending on the camera models) •Complete recording features •Multi-server monitoring (up to 128 channels) •Dual display mode •Video search by date and time, timeline, and event •Intelligent video analytics (IVA) •Multi-view playback from multiple NVR servers •Digital watermarking •Advanced event management •Real-time SMS and email alert •Live monitoring on iPad, iPhone, iPod Touch and Windows PDA phone by VMobile •Trouble-free installation •Linux-embedded, highly reliable standalone NVR •Advanced RAID management •Online RAID capacity expansion and online RAID level migration •UPS Support for 24/7 service •Intelligent auto power on after power recovery •Energy-saving design (only 7W in operation)
Part Number:
VS-2004L