EOC-2611P 802.11b/g 28dBm, Int. 2.4GHz Ant.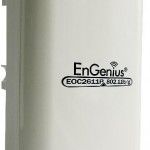 802.11g Outdoor High Power 600mW Bridge / Access Point with Dual Antenna Polarity & Dual Antennas
EOC2611P is a long range outdoor wireless client bridge / access point that operates seamlessly in the 2.4GHz frequency spectrum and provides high bandwidth up to 108Mbps with SuperG. EOC2611P features high transmit power and high receive sensitivity, which extend wireless range and coverage to reduce roaming between access points and to get a more stable wireless connection. It also reduces the total costs of hardware ownership. With the new dual polarity antenna, users can utilize multi-polarization for best performance.
EOC2611P supports distance control by 1km to 30km and RSSI indicator, which enable the best transmit and receive signals for wireless communication. It also comes with PoE injector (24V) to make outdoor deployment fast and easy. To protect your wireless connection, EOC2611P can encrypt all wireless data by 64/128/152-bit WEP encryption or WPA2/WPA. MAC address filter allows user to select exactly which stations should have the access to your wireless network. In addition, user isolation function can protect the private network between client users. The attractive design, superior performance, and array of features make the EOC2611P an ideal wireless solution for any residences or offices. BASIC INFO User Type Business Technology 10/100 • Wireless G Application Super Long Range Model Number EOC2611P
Manufacturer
Part Number:
EOC-2611P